We've fought for thousands of clients who've been cheated. We win a lot. Tell us about your situation. We'd like to help. If we can't, we'll generally offer you at least a little free advice.
Please click the
GIVE US THE FACTS
button to tell us what we can do for you.
You can learn more about our team and our work on our
MAIN WEBSITE.
Meet Ray, and get some quick instructions on our process.
Ray E. Gallo
Ray graduated from Yale in 1987 and earned his law degree from UCLA in 1992. He is a repeat winner of AVVO's clients' choice awards, holds AVVO's perfect 10/10 rating, Martindale Hubbel's "Pre-eminent" "AV" rating, and has been named as one of LawDragon's 100 Leading Legal Consultants and Strategists nationally. Mr. Gallo's 50+ perfect 5.0 reviews on AVVO reflect his clients' consistent satisfaction. He crusades for consumers, employees, and investors, and particularly for clients who can't afford to pursue their claims unless they organize as a group through a site like this one. He believes in advocacy and justice. To learn more about his efforts and his successes, click the links below.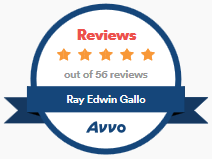 You can also find testimonials from consumer, executive, and corporate clients, and testimonials from our former opposing counsel, below .



Notice
This website is attorney advertising. This website is not an offer to provide legal services but, depending on your answers to our questions here, we may offer to be your lawyers. We are not your lawyers until you and we sign our written fee agreement. The information on this site is not legal advice. Our statements here are our opinions only. Our past results depended on the unique facts and law of those cases, and do not constitute a guarantee, warranty, or prediction of the outcome of any other matter, including this one. If we offer to represent you, it's because we think you have a claim worth asserting, one that we're willing to risk our valuable time and money prosecuting. Having a good claim is not money in the bank, though. The outcome of all cases is uncertain. If we offer to represent you on a contingent fee basis and tell you you won't pay us anything from your pocket, then you will not pay us anything, either fees our costs, from your pocket. We will look solely to the defendant(s) to be paid. Please read our website Notices, Terms, and Conditions for additional terms of use for this website. Please also see the terms of use at
https://gallo.law/terms
, which are hereby incorporated as though repeated here.